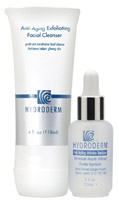 Hydroderm Beverly Hills Fast Acting Wrinkle Reducer
Ranking:
While their website offers about 5 before and after photos, there are no independent clinical study results to back up their claims. We could only find one actual customer review of product performance on Amazon.com. The user rated the product with only a single star and was not satisfied with the results.
Price: $79.95 + $5.95 for a total of $85.90
Customer Experience:
The company claims to offer a free trial however once you get to the final step of the sample ordering process, they disclose in ultra fine print that you are signing up to receive automatic shipments and charges on your credit card every 50 days until you call to cancel and return the product. We were able to find 53 individual complaints posted on Rip-off-report.com. In addition, the company has been given a D rating by the Better Business Bureau. They explain their rating on their website as follows:
"We have enough concerns about this company (for example, their offer, customer complaints, advertising, etc.) that we recommend caution in doing business with it."